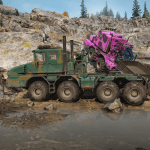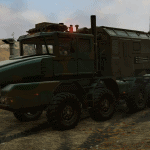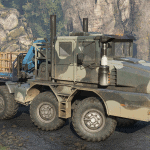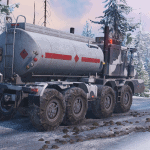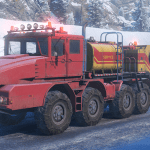 ---
Enhanced KOLOB 74941 "Carnictis" M181 1.0.0
Who here remembers the 2005 King Kong film? The first thing that came to my mind driving the stock KOLOB 74941 around was the Carnictis worms. Slow moving, but relentless. That is an attribute the KOLOB has in spades. This Enhanced Series mod takes those attributes and really leans into them. Yes there is a new, lore-friendly, more powerful engine… but it does not turn this machine into a speed demon. It only dials up the torque enough to move around the new suite of frame add-ons.
I've added the Russian cranes to the KOLOB, and the tradition array of frame add-ons as well. The new performance options are labelled and priced to make sense in-game.
Changes over the stock KOLOB 74941 include:
– Modified steering and added rear-steer
– Handbrake on all axles
– Locked diffs
– Increased fuel capacity
– New Auto Winch HD
– Added WWS TS backup beeper & Royal BM17 horn
– Added CrawlerBox HD transmission
– Added lore-friendly top-tier engine
– Additional wheels
– Raised and Active suspension options
– No region lock
– Added winch points to stock utility mount
– New frame add-ons
– New low saddle
– New visual and performance customization options
– 3 new paint options
I recommend getting FOXCRF450RIDER's Off Road Trailers mod if you plan on using the new Raised or Active suspension options.
If you have any comments or concerns, please let me know. And if it's something that needs to be adjusted, I will group things together and release a patch. Any reviews or ratings are also appreciated.
Version history:
Aug 19 2020 – 1.0.0
Release version
– Pricing correction applied
– Low Saddle position optimized
Aug 18 2020 – 0.9.0
– Pre-release private test version