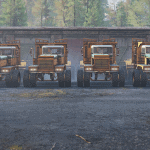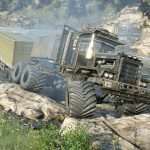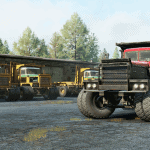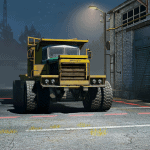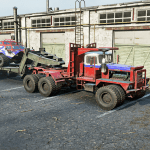 ---
Pacific P16 JBE v0.7
I wanted to do a Heavy truck and I was recommended to check out the P16. Nothing should be locked, but let me know. Like my other tweaked vehicles, I will be adjusting this truck if needed. Most likely not everyone's cup of tea.
tweak list:
– JBE transmission added to gearbox options
– Switchable AWD (Not seeing a pumpkin upfront bugs me. I may fix this somehow)
– Adjusted engine specs because the default engines seemed weak
– I did not touch the sounds because I like the sounds of the P16
– Increased fuel capacity from 100 gallons to 150 gallons (Increased fuel capacity on the roof racks and Addons)
– Added a few more paint colors
– Added more wheel/tire options (I did adjust some tires to handle better, JBE wheels)
– Converted the front to accept dual tires. (If enough people don't like this, I can change it back to default)
– Added Quasimiyao wheel/tire option
– Adjusted default suspensions a little + added JBE suspensions setup. Also added Active suspension
– Added some more exhaust options.
– More Miscellaneous items (In cab spare tire, Roof racks, roof lights, search light)
– Replaced the Pacific high saddle with a standard high saddle (standard high saddle sits a little lower)
– Only US Mini crane and US Big crane on this truck
– Added an Autonomous Winch to this P16
– Added a winch spot to top of truck to help with trailer connections
– HID headlights.
– Changed other light colors and did some LED work. Still working on the LEDs, they sometimes bleed through the body. (I can easily deactivate the LEDs if enough people don't like them)
– Handbrake is connected to front and rear
– Adjusted brake delay, so you stop quicker