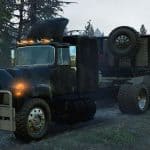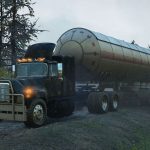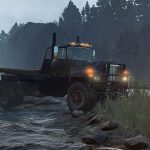 ---
Glitchworks GWC Quack Pack v1.0.2
"Ah, breaker one-nine, this here's the Rubber Duck, You gotta copy on me, Pig Pen, c'mon?" – C.W. McCall – Convoy
Vintage, classic, what more can you say? This here is a 100% bona fide slab of grade A steel. If you arent quite grasping the "Quack" reference just yet, look up Convoy on Google and come on back. We will wait for ya.
We got a 2 truck pack for you with a custom hauling trailer. I've been picking at this truck pack for weeks now while working on other projects at the same time. The Quack GW600 is a shorter, more nimble version of it's bigger brother, the Quack XL700. As with any Glitchworks Customs truck, each has a plethora of customization parts and pieces including just enough parts to make the iconic Rubber Duck.
With the GW600, you will find the customary saddles along with some utility addons plus a single slot bed just in case you absolutely cant pull a trailer where you are going. Its short wheelbase allows for a lot of maneuverability.
The XL700 sacrifices the mobility of the GW600, but replaces it with versatility. The longer frame allows for a full range of addons, from repairs, to radar, to flatbeds.
Both trucks are powered by a range of classic 2 stroke diesel motors in inline 6cyl, V8, and V12 configurations. (brand name withheld for console friendliness)
The custom 5 slot trailer offers up some additional features such as a spare tire, repair points, and some extra fuel to help get you across those harsh regions.