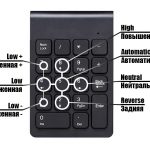 ---
Gearbox at Numpad 20.05.20
The mod adds the ability to switch gears with the keyboard buttons without using the "Shift" button and mouse.
Gearbox control (see screenshot #1):
5 – automatic
6 – neutral
2 – reverse
8 – high
4 – low
7 – low +
1 – low –
MANUAL INSTALLATION ONLY!
ATTENTION! The mod overwrites the game settings file, the changes affect the sections "GAME", "INTERFACE", "MANAGEMENT" and "STEERING WHEEL".
After installing the mod DO NOT MAKE CHANGES IN THE "STEERING WHEEL" SECTION!
Installation Order:
1. Download this mod.
2. Go to the folder ..DocumentsMy GamesSnowRunnerbasestorageYOUR_ID
3. Close the game and save the original file "user_settings.dat"!
4. Copy the file "user_settings.dat" from the folder "en" or "ru" into the open folder with the replacement.
NOTE:
– YOUR_ID is the identifier of your account, each has his own (for example, acfc12a4b6ba4d53a27809af754c48b6);
– in the "en/ru" folders of the archive there are files for the english/russian language of the interface, select the one you need;
– if at the start of the game there is a request for different versions of files, select "Download to the cloud" (see screenshot #2).