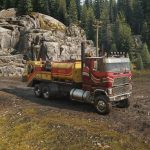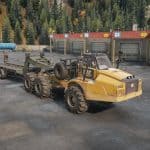 ---
Foxx's Trucks Pack [WIP] 1.0.6
Currently Available Trucks:
American: Freightliner 114SD, Pacific P16, Western Star 6400XD TS, International Paystar 5070, Hummer H2, Cat CT680, Cat 745C, Ford CLT9000, Derry Longhorn 3194(Oshkosh M911 8×8), Derry Longhorn 5420 (Oshkosh M1070A1), Navistar 5000.
Russian: Azov 4220 Antarctic, Tuz 420 Tatarin.
Adds: Suspension, Tire, Engine, and Winch Options.
Enables: Permanent DiffLocks and AWD.
This mod is a Work In Progress.
/To be Added More Trucks, More Options, More Addons/
If problems with updating occur go to your: DocumentsMy GamesSnowRunnerbaseMods.modiomods120140 and manually delete file all files EXCEPT "fox_trucks_104" & "modio".
I work during the week, so updates are delayed till the weekend (Fri/Sat/Sun EST). Sorry.