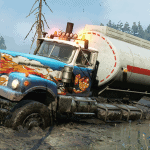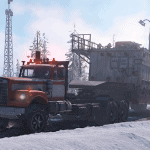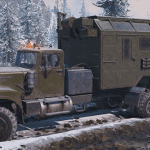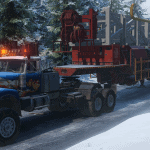 ---
Enhanced W Western Star 4964 "Heavy-Hauler" M181 2.0.0
Welcome to version 2.0! As I'm making new trucks, I'm also planning on going through some of the older mods and bolster them. These will be the last large patches these trucks get, however bug fixes will still be applied as needed. Check the version history information for changes over V1. If you notice any bugs or weirdness, please let me know.
The White Western Star is a popular truck within the Snow*Runner community, however it really never won my heart. It always seemed a little lacking to me. This mod started out as a bit of a gag but ended up being one of my more involved XML tweaks.
This mod replaces the WWS standard "Old US" engine line-up with the brawny engines from it's big sister, the TwinSteer. The CrawlerBox HD transmission has also been added. I've also beefed up the suspension to match the "Heavy Hauler" designation, and added the Heavy Truck winch suite. An expanded selection of heavy tires is present as well.
I have modified the vehicles weight and centre of gravity to compliment and represent the new powertrain. New visual and performance customization options have been added for the off-road look, and a taller snorkel as well as a roof rack. Multiple spare tire mounts can be equipped if you choose.
This truck has been thoroughly tested and does fall a bit on the OP side, but it is a different twist on an old classic.
Aug 24 2020 – 2.0.0
– Removed rear-steer for stability & slightly increased front steering angle to compensate
– Added Auto Winch HD
– Truck now spawns on P16 tires
– Modified suspension settings and added new Active rear-lowering suspension
– Repositioned engine icon
– Modified sound set to include more WWS original sounds where applicable
– Improved socket naming schema
– Tweaked chassis physics and strength
– Completely overhauled wheel options (No Medium options and new Heavy single options added)
– Removed region lock
– Changed pricing slightly
– Added new winch and crane points
– Changed UI text and imagery
– Added new frame add-ons including single-slot and Russian big crane
– Swapped out some visual options for ones that fit better
– New customization options added
– General code clean-up