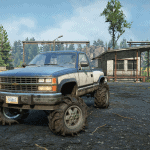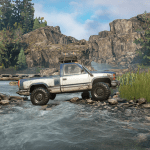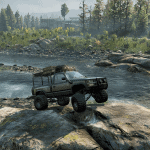 ---
Enhanced Chevy K1500 "TrailWolf" M181 1.0.4
This is my first mod (ever!) here on io, big thanks to LoB1325 for providing me with assistance and the wheel package from his Hummer H2 SE
The K1500 is a great starter truck out of the box however it is overshadowed by the Hummer H2. This mod "LS swaps" the Silverado into having the H2 drivetrain and adds a wide variety of wheel & tire options. Plus a locked diff and larger fuel tank.
This is a pretty simple mod overall. Just an H2 mechanically. The fuel tank size has been brought up to 150L for greater range, and the diff is always locked in. There is a wide variety of wheel options for sizes and offsets, to make the truck look as tame or wild as you want (pulled from LoB's H2).
Version history:
Jul 24 2020 – 1.0.3
– Added roof crane socket from test server
– Fixed pintle trailer location to look a little better
– Added TrailWolf to name and changed UI text a little
– Bumped up price slightly to be $100 more than stock Silverado
Jul 14 2020 – 1.0.1
– Added ability to tow pintle hitch trailers
– Softened front suspension a little bit
– Duplicates fixed for all but stock front bumper (has loading error otherwise)
Jul 12 2020 – 1.0.0
– Levelled out the suspension
– Unlocked the tall snorkel because the mushroom cap one looks awful
This is the official release. Still need to sort out duplicate options but doesn't affect usability.
Jul 12 2020 – 0.9.2
– Should have proper custom gearbox now. Early version was the testing version from LoB1325's Hummer
Jul 12 2020 – 0.9.1
– Removed excess files
– Added custom gearbox
– Colours work now
– Subscribe to install should work now
– Still need to sort out why visual customizations are coming up as duplicates, will try and fix before 1.0