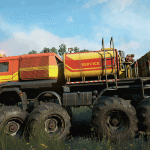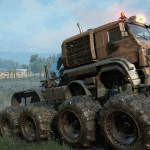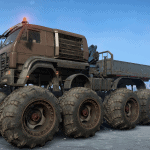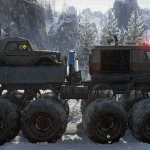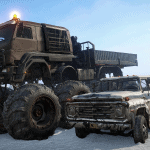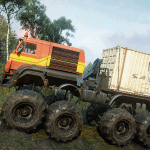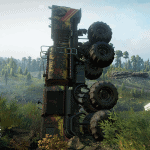 ---
Russian Redneck RR Azov 64131 OP 1.7
86″ tires!! An unrealistic fun beast that can take tons of damage, is very hard to flip, has 750000 torque, turns very fast, has add-ons.
This truck does better in water than it does on the road, it drives like a rally car, try different combinations of gearboxes and engines to reduce speed, this is an unrealistic fun truck which I find fun just plowing through swamps.
It has all the frame add-ons and does ok on the ice and snow. (could not sink it)
UNREALISTIC FUN TRUCK, THIS WILL MAKE THE CAMPAIGN EASY AND COULD RUIN SOME PEOPLES EXPERIENCE (unless you like towing trucks out of swamps at 50mph =) My goal is to make a truck that can do anything fast. it does most things now but still needs work.
For good results that I use most have xtreme engine, xtreme suspension, there are 3 good gearboxes for various speeds, oh and the 86″ tires. Some of the other suspensions may bug the truck.
Updated 1.1, wide tires, better in swamps, takes more damage +
Updated 1.2 higher ride, less wobble for transporting heavy goods
Updated 1.3 winches should work even when stalled
Updated 1.4 maintenance frame add-on has 4000 parts + more fuel
Updated 1.5, less truck weight, longer winch, bigger wheels, lower center of gravity truck weight, tweaked a few other things.
Updated 1.6 big tires grip all surfaces well (even ice) copy classes + templates to initial.pak rar/zip
Updated 1.7 spare tire has 3000 repair parts and refuel
BACKUP initial.pak first, that way if you make a mistake when copying into initial.pak you can always quickly restore the original with no harm done.
Credit goes to complexities, Emil and a few other modders for helping create this Frankenstein. WIP: Still needs axle spacing's fixed, a weird graphics glitch that can happen where it looks like a tow cable is flying around. When towing, truck can glitch and go crazy (sometimes ends up underground, or for example I was towing the hummer and it got stuck in the sky, I could see it in the clouds) and a few more things. If anyone can help me fix these issues that would be great.
Install the usual way copy files to initial.pak
Late for Russian dance class? the Russian Redneck will get you there in plenty of time for dance and vodka with the boys.